ABOUT FTC
Founded in 1962 by the Farraj Family, the company is headquartered in Amman Jordan. It remains today a family owned and operated business. In its early years the Farah Trading and Contracting Company developed into one of Jordan's largest contracting companies, responsible for the construction of many large buildings in and around Amman.
Building on the business and management expertise gained in the original contracting business a decision was taken to redirect the company's resources and energies toward the manufacture and sale of circuit protection devices and electrical distribution technology.
The developing electrical distribution systems throughout the Middle East provided a need for sophisticated products that would meet both local and international standards.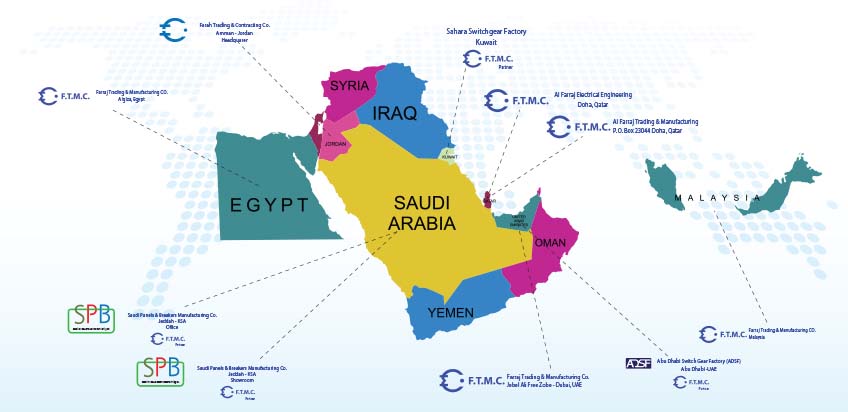 We manufacture low voltage circuit breakers, panel boards and load centers where we market a variety of electrical construction products in the Middle East, Africa, and Asia. We operate several industrial units in Dubai, Abu Dubai, Qatar and Kuwait to produce our MCBs, MCCBs, and ACBs with higher standards.
In 2006, FTMC initiated a project to design, tool and manufacture a line of circuit breakers that meet the general and specific requirements of the Middle East market. Now produced in our Jebel-Ali factory, the result is a complete line of breakers that are certified by ASTA.
FTMC maintains a high quality standard in state of the art manufacturing facilities as recognized by ISO certification. FTMC is one of the most important suppliers of Circuit Breakers in the entire Middle East.
Our F.T.M.C assembled panel boards are designed for sequence phase connection branch devices study, rigid chassis assembly assures alignment of the interior with the panel front, preventing flexing and minimizes the possibility of loosening or damage to current carrying parts during and after installation.