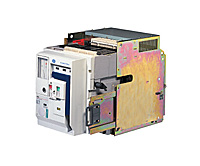 Air Circuit Breaker : M-Pact Plus Frame 1 &2 – Withdrawable
Pre-mounted into a self-contained 'cassette' ; this versatile circuit breaker can be inserted or withdrawn via sliding rails using a racking drive mechanism controlled by a racking handle.
It provides three set positions : Disconnected/Test/Connected.
Any attempt to withdraw the unit whilst in service will automatically trip the breaker, either by the racking position safety mechanism or by the insertion of the racking handle. It can be racked to the disconnected position with the cubicle door closed or open.
Compliance with IEC947-2, BSEN60947-2 & VDE0660 part 101 & 107
ASTA, KEMA and LOVAG certification to IEC947-2 & BSEN60947-2
Rated short circuit performance from 50 kA to 80 kA (Icu=Ics=Icw) @ 415v
Nominal ratings from 400A to 4000A
2 Frame Sizes: Frame 1 (400A to 2500A), Frame 2 (400A to 4000A
3 and 4 pole available in both fixed and withdrawable pattern
Common height and depth for complete range
Common accessories designed for simple installation
Built-in safety features provided as standard
Superior circuit protection integral to MPRO relay including combination of unrestricted, restricted and standby earth fault
Communications facility incorporating MODBUS protocol
Auxiliary contacts 5 n/o + 3 n/c provided as standard
Ingress Protection – IP20 secondary contacts and IP43 door seal provided as standard with enhanced IP54 door option available
2 or 3 way mechanical interlocking available in cable and rod design
Fully insulated steel shutters with front access padlocking facility as standard
Lifting lugs for ease of removal of the breaker from the 'cassette'