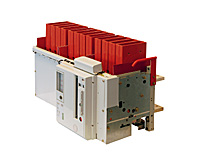 Air Circuit Breaker : M-Pact Plus Frame 3 -Fixed pattern
M-Pact Plus frame 3 fixed pattern air circuit breakers incorporate a stored energy mechanism. The spring can be charged either manually or electrically via a motor operator that is automatically activated after the closing operation.
IP43 front panel and door escutcheon seals are standard features. For enhanced protection, an optional IP54 door panel is also available.
Trip-free operating mechanism
Positive 'ON/OFF' contact indication
Mechanical/electrical anti-pumping device
Charging spring status indication
Manual spring charging handle
Auxiliary switches 4 NO and 6 NC, 10A 500V (standard)
Mechanical trip alarm switch (1 NO) (potential free)
Padlockable push-button cover
Mechanical cable interlocking (optional)
Termination : horizontal
Electrical spring charge indication
Easy replacement of main and arcing contacts