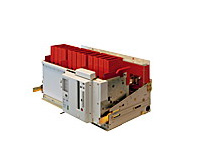 Air Circuit Breaker : M-Pact Plus Frame 3 -Withdrawable
Pre-mounted into a self-contained 'cassette', this versatile circuit breaker can be inserted or withdrawn via sliding rails using a racking drive mechanism controlled by a racking handle. It provides three set positions:
Disconnected / test / connected
Any attempt to withdraw the unit whilst in service will automatically trip the breaker (by the racking position safety mechanism).
It can be racked to the disconnected position with the cubicle door closed or open.
Carriage position switch (optional)
Shutters and padlocking facility
Contact indication
Termination: rear (horizontal/vertical)
Automatic disconnect of secondary circuits
Easy wiring of the control circuit contacts
Carrying handles for easy of removing the circuit breaker from the cassette