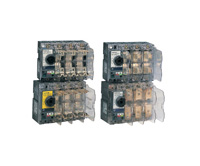 Fulos
The new generation of loadbreak disconnectors DILOS, the fused execution FULOS and the changeover switches meet today's tertiary and industrial market needs. Featuring superior technical performance, the switches satisfy the requirements of all modern low voltage installations of which the short-circuit level can now be calculated rapidly, reliable and durable at each level in the installation with adapted software (Procera).
They comply with the latest specifications and safety requirements such as visible contact indication, positive contact indication (PCI), quick make and quick break operation, independent opening and closing mechanism, by-pass and padlocking features, auxiliary contacts, etc.
The concept integrates the requirements of installers and panelbuilders : fast and easy installation, reliable and durable connections.
Complete choice of current ratings
In Fulos from 32A up to 1000A/1250A
Compact moulded body with transparent cover (visible contacts)
Universal mechanism (unambiguous)
Clear "ON/OFF" indication
Double break contacts with separate arcing contacts
Padlocking in "OFF" – position up to three padlocks
Very high short-circuit resistance
Extension shaft with defeat mechanism and positive contact indication