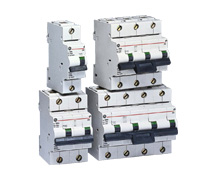 Miniature Circuit Breakers: 10kA 80A to 125AHti
The miniature circuit breakers of the Series Hti are the biggest breakers within our range of MCB's (210 g/pole). They are meant to be used for heavier applications, their nominal current goes upto 125A and they have a calibration temperature of 40°C (for the other MCB's within our range this is 30°C, except for the Series GT).

This is also reflected in the terminal capacity for rigid cables, 70mm 2 , while for other miniature circuit breakers this is maximum 16 (C-series) or 35mm 2.

Following add-on devices are available for this product: auxiliary contacts, shunt trip (Tele L) and panel board switch (PBS).

No accessories are available for the Series Hti.

See below the main features for this range.
| | |
| --- | --- |
| Features / Producttypes | Hti |
| Standards | EN/IEC 60947-2 |
| Short circuit breaking capacity (Acc.to EN/IEC 60947-2, curves B,C) (kA) | 10, 15 |
| Tripping characteristics | B, C, D |
| Thermal settings ln (A) | 80-100-125 |
| Rated voltage AC Un (V) | 230/400 |
| Minimum operating voltage U B min (V) | 12 |
| Selectivity class | – |
| Mechanical/electrical endurance | 10000/4000 |
| Tropicalisation acc.to EN/IEC 60068-2 | 95%RH at 55°C |
| Terminal capacity flexible/rigid cable (mm 2 ) | 70 |
| Poles | 1 |
| | 2 |
| | 3 |
| | 4 |
| Weight (g/pole) | 210 |
| CE-marking | X |
| Auxiliary contacts | yes |
| Tele U (Undervoltage release) | – |
| Tele L (Shunt Trip) | yes |
| Tele MP (Motor Operator) | – |
| PBS (Panel board switch) | yes |
| Busbar system pin (top/bottom) | – |
| Busbar system fork (top/bottom) | – |
| Accessories | – |