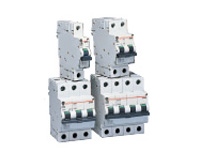 Miniature Circuit Breakers: Series EP
Below you can find four of our types out of the Series EP.
The EP60 and EP100 are the most commonly used MCB's in the range of our residential circuit breakers. The EP60 and EP100 are simular to the G60 and G100. However, the G-types are available with the tripping curves B-C-D,while the EP60 and EP 100 only use the K-curve. There is no 1+N execution in the K-curve. A second difference is that the MCB's within the Series EP have a labelholder, so they can be tagged. For the Series G this is not the case.
The EP100 UC breaker can be used for direct and alternating current.
The EP100 R is used for railway applications.
Our MCB's within the Series EP can be delivered with following add-on devices:
Auxiliary contacts, undervoltage release (Tele U), shunt trip (Tele L), motor operator (Tele Mp) and panel board switch (PBS).
Accessories are available for the MCB's within our Series EP.
It also needs to be mentioned that this is not the complete Series EP. We also offer EP-breakers with UL approval. For more details you should go to the Series EP with UL approval page of our website..
See below the main features for this range.
Features / Producttypes
EP60
EP100
EP100 UC
EP100 R
Standards
EN/IEC 60898-1
EN/IEC 60898-1
–
–
EN/IEC 60947-2
EN/IEC 60947-2
EN/IEC 60947-2
–
–
–
EN/IEC 60898-2
–
–
–
DIN VDE 0641
–
–
–
–
EN 60898
–
–
–
EN 60947-2
Short circuit breaking capacity (kA) (AC, 60898)
6
10
6
10
Tripping characteristics
8-12 ln (K) and 6 in non tripping ≤ 2 sec.
8-12 ln (K) and 6 in non tripping ≤ 2 sec.
B, C
B, C
Thermal settings ln (A)
2-63
0,5-63
0,5-63
0,5-63
Rated voltage AC Un ~ (V)
240/415
240/415
230/400
230/400
Rated voltage AC Un = (V)
–
–
220/440
–
Minimum operating voltage U B min ~ (V)
12
Minimum operating voltage U B min = (V)
–
–
12
–
Selectivity class
3
Mechanical/electrical endurance
20000/10000
Tropicalisation acc.to EN/IEC 60068-2
95%RH at 55°C
95%RH at 55°C
95%RH at 55°C
–
Tropicalisation acc.to IEC 60068-2-28/2-30
–
–
–
95%RH at 55°C
Terminal capacity flexible/rigid cable (mm 2 )
25-35
Poles
1
1
1
–
2
2
2
–
3
3
–
3
4
4
–
–
Weight (g/pole)
120
120
120
125
CE-marking
X
Bombardier Transportation Approval (EN 50155)
–
–
–
X
Auxiliary contacts
yes
Tele U (Undervoltage release)
yes
Tele L (Shunt Trip)
yes
Tele MP (Motor Operator)
yes
PBS (Panel board switch)
yes
Busbar system pin (top/bottom)
yes/yes
Busbar system fork (top/bottom)
-/yes
yes/yes
Accessories
yes