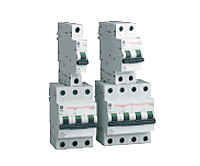 Miniature Circuit Breakers: Series GT
The Series GT miniature circuit breakers have a calibration temperature of 40°C. This differentiates them from the other Series G (30°C).
Within this series the GT10 has a smaller short circuit capacity than the GT25.
Following add-on devices can be delivered with these products: Auxiliary contacts, undervoltage release (Tele U), shunt trip (Tele L), motor operator (Tele Mp) and panel board switch (PBS).
Accessories are available for the MCB's within our Series GT.
See below the main features for this range.
Features / Producttypes
GT10
GT25
Standards
EN/IEC 60947-2
Short circuit breaking capacity (kA) (AC)
10-30
15-100
Tripping characteristics
B, C, D
Thermal settings ln (A)
0,5-63
Rated voltage AC Un (V)
240/415
Minimum operating voltage U B min (V)
12
Selectivity class
–
Mechanical/electrical endurance
20000/10000
Tropicalisation acc.to EN/IEC 60068-2
95%RH at 55°C
Terminal capacity flexible/rigid cable (mm 2 )
25-35
Poles
1
2
3
4
Weight (g/pole)
120
CE-marking
X
Auxiliary contacts
yes
Tele U (Undervoltage release)
yes
Tele L (Shunt Trip)
yes
Tele MP (Motor Operator)
yes
PBS (Panel board switch)
yes
Busbar system pin (top/bottom)
yes/yes
Busbar system fork (top/bottom)
-/yes
Accessories
yes