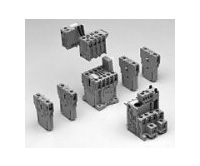 Minicontactors (Upto 5.5 kW) – Series M
IEC 947 standards compliant
3-pole: 2.2kW to 5.5kW – 380/415V – AC3, 6 to 12 A – AC3
Control circuit :AC, DC, low coil consumption (1.2 and 2W/24V). DC operating limits 0.8…1.1 Us and operating limits 0.7…1.3 Us
4-pole: 20A AC1,Control circuit : AC, DC
Available in 3 different contact configurations
Terminal protection degree IP2X
Terminations: Screw, Ring Terminal, Fast-on – 2 x 2.8 mm (on request 1 x 6.3 mm) and Printed Circuit Board configurations
Terminals:

Numbered according to EN standards
Posidrive terminal screws
Mounting in line.
Terminal numbering in accordance with EN50012 and EN50005.

Coils:

Protected against overheating
Easily interchangeable
Spare parts
Wide Tolerance 0.7 – 1.3 x Us

Mounting:

35 mm DIN-rail mounting or screw fixing

Accessories:

Front mounting auxiliary contact blocks.
Two and Four pole contact configurations.
Protection degree IP20.
Side mounting auxiliary contact blocks.
Single circuit contact blocks.
Common for AC or DC contactors.
Possible to mount up to 4 blocks in tandem.
Delay ON Electronic timer for front, side or DIN mounting timing range 0.5 – 60 sec and 0.2 – 24 sec.