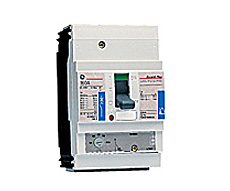 RCCB Record Plus: FD63/160 frame size
Rated at 160A, the FD63/160 frame size is designed for use in both a DIN-rail environment with modular equipment and in industrial applications. It is supplied with IPXXB terminals suitable for direct connection of one or two conductors totalling up to 95 mm² and is available as a thermal-magnetic breaker, a moulded case switch, and as a magnetic-only motor circuit protector.
The FD63/160 bridges the gap between residential miniature circuit breakers and industrial moulded case circuit breakers.
In compliance with EN 60947, BS, VDE, UTE, KEMA, CEI
3 and 4 pole versions available
FD63 to 63A and FD160 to 160A
Full range of add-on accessories, including:

thermal magnetic/magnetic trip units
auxiliary contacts
completely integrated add-on devices available
rotary handles
electrical operators
connectivity – 60 mm system