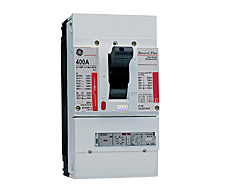 RCCB Record Plus: FG400 and FG630 framesize
Rated at 400 and 630A, the FG frame size includes all of the advanced features of the FD and FE frame sizes. The FG connection area features easy-to access busbar connections. Cable lugs for use with single or multiple copper or aluminum conductors are optionally available. The breaker is designed for use with interchangeable electronic units that can be easily adapted to multiple levels of protection.
In compliance with EN 60947, BS, VDE, UTE, KEMA, CEI.
3 and 4 pole versions available
FG400 to 400A and FG630 to 630A
Full range of add-on accessories, including:

thermal magnetic/magnetic trip units
auxiliary contacts
completely integrated add-on devices available
rotary handles
electrical operators
connectivity – 60 mm system
Changeover/Power transfer systems