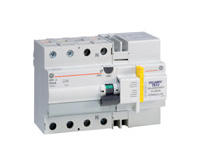 Tele REC: The Ultimate Reconnection System forRCCB's
Ensures power continuity in critical applications.

The Tele REC relay automatically recloses the RCCB after an earth leakage or a manual disconnect. The relay will attempt to re-close 6 times with different time intervals between re-close attempts. After 6 unsuccessful attempts the Tele REC is locked.
Features
Status indicator: The yellow lever clearly indicates the status of the Tele REC. In position 1 the relay is ready to work, in position 0 the relay is blocked both electrically and mechanically.
Easy connection: The RCCB toggle slides easily into the toggle actuator of the relay.
Part of the family: For each series of RCCB's – ElfaPlus, Redline and DMS line – a specific Tele REC reconnector is available.
Auxiliary contact: Tele REC is equipped with an auxiliary contact (LI) to operate the re-closing system from a push-button.
Stable and secure: Strong clips to ensure a stable connection between the RCCB and the Tele REC relay.
Full awareness: The relay is also equipped with a volt free output to indicate the status of the protection (connected/ disconnected).
One fits all: Both 2 modules and 4 modules RCCB's can be connected to the reconnection relay Tele REC.
Complete range of reconnection relays
Tele REC DMS: Specially designed for the residential market.
Tele REC BASIC Type A and AC: For the residential/commercial markets. Commercial, banks, office buildings, hospitals,..
Tele REC BASIC Type Ai: Power maintenance and reliability in one device. Banks, hospitals, farms, public lighting, traffic lighting,…
Tele REC PLUS: For the commercial/industrial markets. The reconnection relay Tele REC Plus can be easily coupled to any ElfPlus RCCB.
Tele REC SOLAR: Specially designed for photovoltaic applications. The reconnection relay Tele REC SOLAR can be easily coupled to MCB's series EP100 UC.