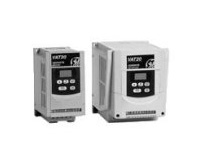 Variable Speed Drives – VAT 20
VAT20 is a small, flexible and low cost drive, for standard AC motors covering the power ratings from 0.2kW to 2.2kW at 200-240V Single Phase Power Source and from 0.75kW to 2.2kW at 380-460V Three Phase Power Source.
VAT20 includes a reliable set of both motor and drive protections, keypad and display, programmable digital and analogue I/Os, multi-mode frequency setting, Jog function, DC Braking and other functions only available in expensive drives. An optional accessory allows DIN rail mounting.
This drive range meet global UL and CSA standards, and is CE Marked including a built in Class A. Residential compliance is met by an external optional foot-print filter
Key Features
Compact DIN rail or panel mounting range
Voltage ratings: Single phase systems 200-240VAC and Three phase systems 380-460V, 50/60Hz
Applicable motor Power ratings from 0.2 to 2.2kW
Overload capacity 150% / 60 s
Working ambient temperature -10 to 50°C
Operator interface built-in keypad with LED display
Built-in EMC filter Class B
Global Standards UL & CSA and CE